how pink sparkly headbands and cancer diagnoses built a friendship
Ava Gunn drags a vibrant pink crayon across her paper. Soon her creation will make her friend, Scarlett Unrast smile as bright as the colors now covering the page. But she won't be able to see that smile.  A nurse will have to deliver the work of art because both girls are in isolation rooms at Dayton Children's, undergoing chemotherapy treatments for a nerve tissue cancer called neuroblastoma. The 3-year-olds have to avoid anything that might introduce germs into their environment.
Neuroblastoma is a rare type of cancer that forms in early nerve cells of an embryo or fetus. Less than 1,000 diagnoses per year are made in the United States. Most of the tumors are discovered in the abdomen, attached to the adrenal gland which sits on the kidney and makes hormones. They also commonly form near the spine in the chest or neck, or in the pelvis.
Ava and Scarlett were diagnosed with their conditions just months apart in 2017. With both girls being about the same age, and in the same unit at the same hospital, their friendship was organic.
"They would play together in the playroom," says Lindsey, Scarlett's mom. "It's hard because you kinda live in a bubble."
Cancer treatments for children typically involve several week-long stays in the hospital for treatments over the course of a year or more, putting a family's life in a sort-of temporary limbo. Between those treatments and doctor's visits, Scarlett and Ava built a rock-solid friendship.
"It's funny to watch them because when Ava is around other kids she is kinda shy and standoff-ish. And that's not Scarlett. She gets in there," laughs Ava's mom, Amanda. "It's cute to see them get to be little girls and play in the kitchen or play with their ponies."
Amanda says that even with the surgeries, chemotherapy and treatments her daughter has been through, Ava is still a happy kid. She was one of the first kids to move into the new patient tower in 2017, making her part of Dayton Children's history. A few months later, staff crowded into her room to celebrate her second birthday complete with balloons, songs and presents.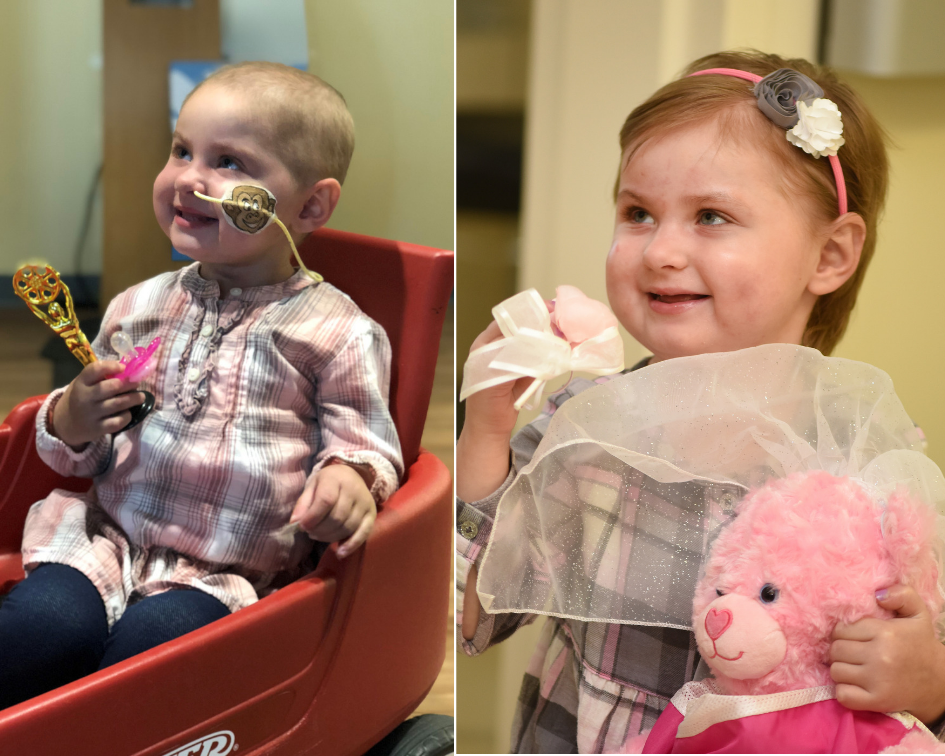 "When Scarlett got diagnosed the doctor was like 'Lindsay, if I gave the same diagnosis to an adult they would lay in their bed and feel sorry for themselves. But kids don't know that at all. They just go on with their day and play
like they would normally.'"
Even the loss of their hair - Ava's with glints of red and Scarlett's light blonde - hasn't brought them down. Scarlet rocks a headband whether she has hair or not, along with a collection of nail polish that would make any salon envious. Now, both girls' hair is sprouting back and they are looking more alike than ever, with blue eyes and the same brunette hue.
The girls' friendship has helped their moms navigate treatment plans, too.
"Of course you don't want other kids to have cancer, but having that extra support from another mom who has a girl about the same age, with the same diagnosis, it just helps. It helps having someone to talk to about it. It's easier to know you are not alone."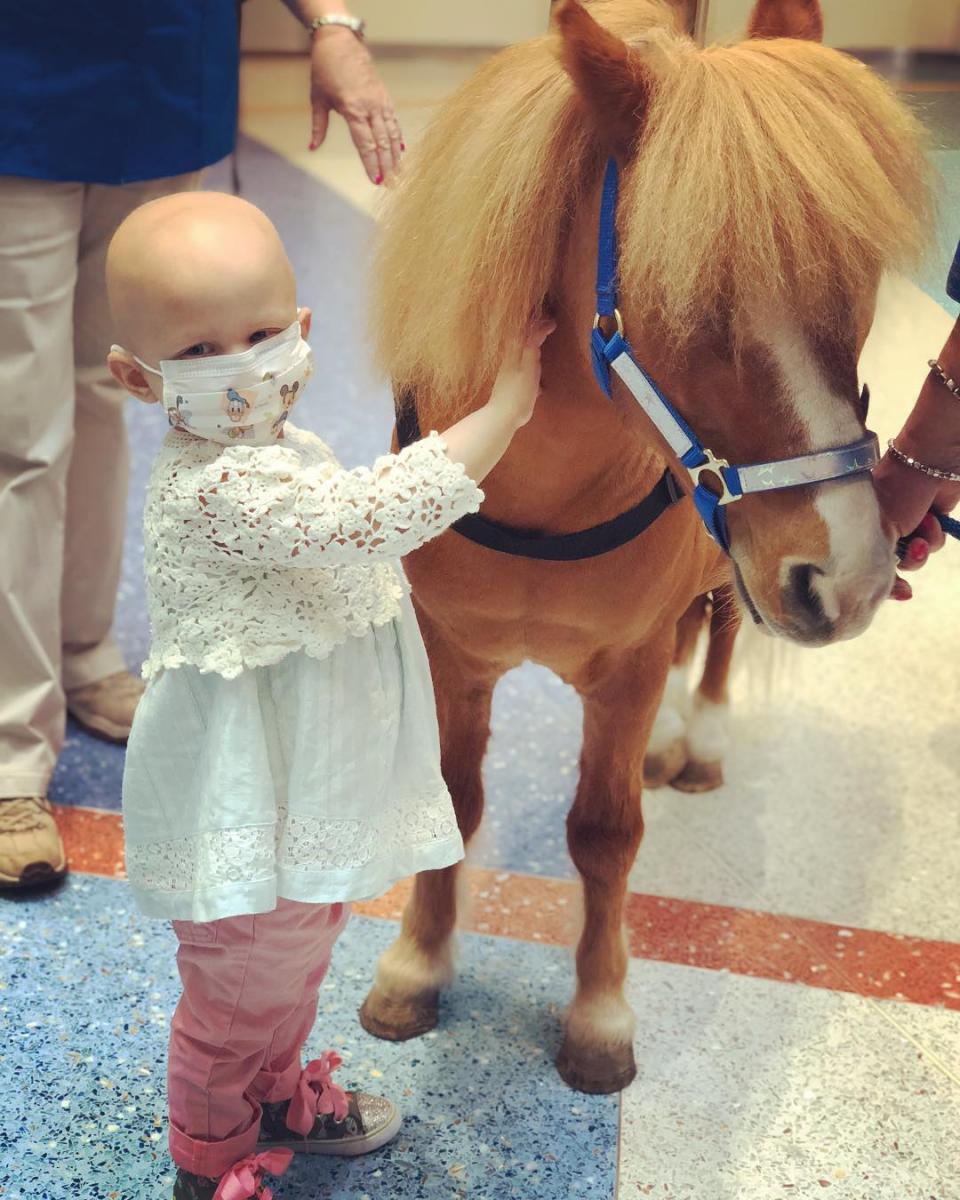 Lindsey agrees. "We know when the kids have scans, when they're going through different things, we text each other."The support system they found at Dayton Children's has been another blessing. "I hadn't been home in three weeks because Ava was so sick and I wouldn't leave.  A resident asked me 'Do you need shampoo? Do you need soap?' I had all that stuff, but she thought to ask me that. That's not her job. Her job is to be my daughter's doctor and to fix her. But for her to actually care about me as a mom, and know that I was going through a stressful situation, actually meant a whole lot to me. They always made sure I was being heard. I still keep in touch with that resident to this day!"
It's a level of care Amanda says still hasn't wavered even as Ava enters new phases of her treatment. "I talk to her dietitian, Kelly Walker, like once a week and Ava isn't even in treatment just because nutrition is so important right now."
Both moms say what makes them most happy is how their daughters can just be kids when they are at Dayton Children's. Whether it's the Great Dane therapy dog that comes to cuddle with them or the fact that they can just pop into the doctors' offices for a visit – and maybe even a little candy.
"They've made it really nice for the kids here. Rita Falkenbach and the child life team, they are a blessing for those kids. Scarlett loves music therapy – it's one of her favorite things. If the weather is nice, we always go onto the Sky Deck – a fourth floor outdoor play space that has a space that is just for kids with cancer."
No matter what lies ahead, these families have a connection that will now last a lifetime - and probably includes pink sparkly headbands!