grandma's intuition lead to a startling diagnosis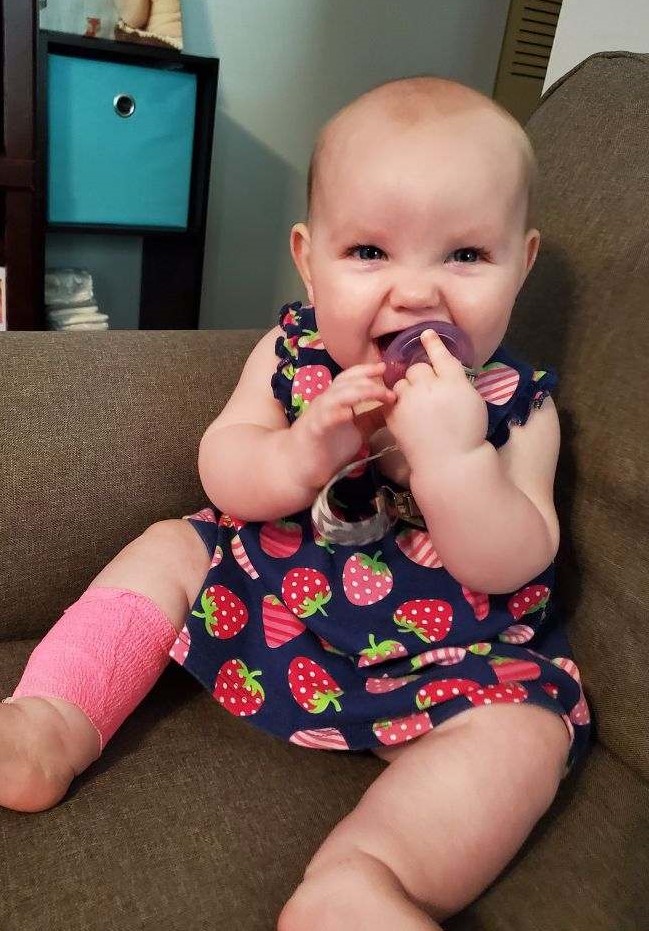 On a typical spring evening last May, mom Ashley gave 7-month-old Emma her bath, wrapped her in a warm towel, and rubbed on lotion to keep her skin baby soft. Just like so many moms and dads do every night. Ashley didn't realize one of her favorite routines with her kids would change overnight.
The next day, Ashley was at work and her mother was babysitting Emma and her big brother, three-year-old Colton. Ashley got a call from her mom and was immediately concerned – her mom wouldn't call unless it was something serious. Baby Emma had a large, hard lump on her right leg. Had she fallen or bumped it, grandma asked? No, replied Ashley, Emma was completely fine just the night before.
Ashley trusted her mom's experience and instincts, and immediately called their pediatrician for an appointment that afternoon. Right after she got off work, Ashley took Emma to Dayton Children's South Campus for her appointment. The doctor wasn't sure what the lump could be – she even called in another doctor, but they couldn't say for sure. It was about the size of a marble and hard under the skin, but Emma didn't seem to be in any pain. They sent Emma to have an ultrasound in the same building.
"At this point I was starting to get really worried," says Ashley. "They didn't let me leave while they were processing the test results – they kept us right there so we could find out right away what was going on." The ultrasound was inconclusive though. The tech thought it must be a hematoma – a bruise-like injury. That didn't make sense to Ashley though – Emma hadn't gotten hurt.
It was Friday afternoon, and the clinical team told Ashley to keep an eye on the lump and call back if it got bigger. If it was a hematoma, it would surely shrink over the next few days. It didn't. Over the weekend, Ashley says, the lump got even bigger and more noticeable. She called the pediatrician back and they referred her to Dr. Ayman El-Sheikh and the hematology/oncology team at Dayton Children's.
Every parent dreads this exact situation – having to take their child to be tested for what could potentially be cancer. Ashley was no different, but she says from the moment they walked into Dayton Children's, everything just felt right. Even though she had to take her baby to the hospital in the middle of the COVID-19 pandemic, all of the safety precautions at the entrance and throughout the hospital reassured Ashley that they would be safe. It allowed her to focus on why they were there – to get answers and get Emma the care she needed.
"It wasn't even a factor," recalls Ashley. "We were met at the door by the screening team, and they were so nice and reassuring, we didn't feel worried about COVID. We were able to focus one-hundred percent on getting Emma the treatment she needed."
At the hospital, Emma had an MRI of her leg, and the findings lead Dr. El Sheik to diagnose the lump as a tumor. But they would need a biopsy to learn if it was cancerous. Rather than putting Emma through two procedures – a biopsy and then surgery to remove the tumor – Dr. El Sheik recommended removing the lump right away. Ashley agreed. Dr. Arturo Aranda, chief of pediatric surgery, performed surgery on Emma that same day, and, thankfully, the tumor tested negative for cancer.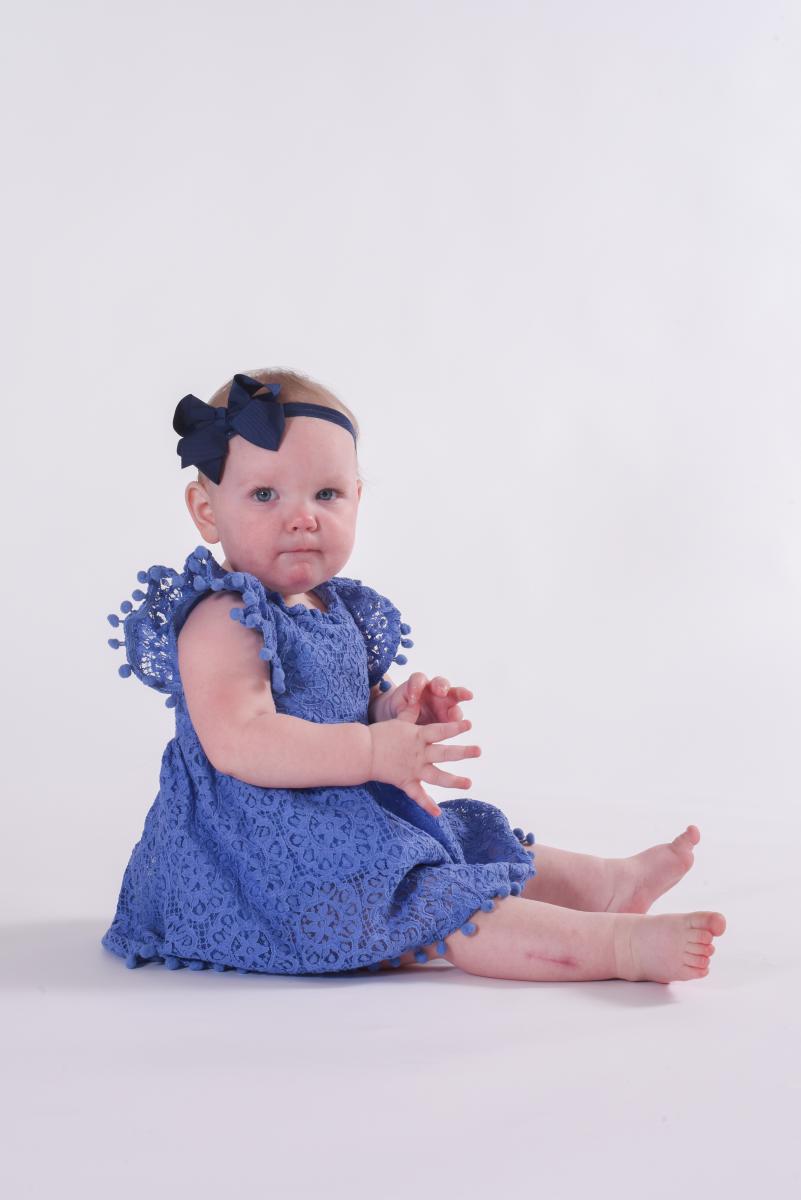 It was hard for Ashley to see her sweet baby being put under anesthesia – she was so little, just 8 months old at that point. But more than anything, she felt relief that they had answers at last. And the care team that treated Emma lead them through every step gently and compassionately.
"Jamie in hem/onc was so special for us," remembers Ashley with a catch of emotion in her voice. "Whenever any tests needed to be run, she called us first to talk through it and check on Emma's progress. She was the first to call with all of our test results. She gave us so much peace of mind, and truly went above and beyond in her care for my child."
Emma came through surgery beautifully and was discharged the same day. Her tumor was diagnosed as lipofibromatosis. Although non-cancerous, it is extremely likely to return. So Emma has to have an ultrasound every three months and an MRI once a year until she turns five, to monitor for any changes. Emma is the youngest patient that Dayton Children's has ever treated with lipofibromatosis, and one of only 60 patients ever at the hospital with this rare condition.
"I remember them telling me that they were glad we found the tumor as soon as we did," says Ashley. "Sometimes, the lump can be much larger before kids are diagnosed."
Dr. El-Sheik says that Emma's young age may have helped in her favor during this difficult process. "Working with children is inspiring to me; I see their amazing strength of spirit," he says. "Children are so resilient, funny, adaptable, sweet and, in the end, just lovely.  The most rewarding thing about my job is seeing a child who starts out sick, or in pain, blossom into a happy, healthy child like Emma."
If the tumor returns, there is a possibility she may need radiation therapy or even chemotherapy. It's a lot to take in, in such a short period of time, says Ashley, but her experience at Dayton Children's reassures her that Emma is absolutely in the right place.
"I couldn't have asked for a better group of people to care for my sweet girl," said Ashley. "It honestly has been the best experience, despite the circumstances."
And for now, Emma is still the happy baby she always was. Over the months since her surgery, she's hitting her developmental milestones. Now 1 year old, she's even walking! Her big brother, Colton, couldn't love her more. "He's so affectionate," says Ashley with a smile. "He loves hugging and kissing her. We actually had to tell him to be a little more careful after Emma's surgery, but he understood."
Emma will need continuous medical care for years to come. Ashley says, after their initial experience at Dayton Children's, she will never take her daughter anywhere else for her care.