When we are frightened and nervous, someone taking the time to stop and reassure us can make all the difference. Little did Chaize Byers and her family know, they were going to need a reassuring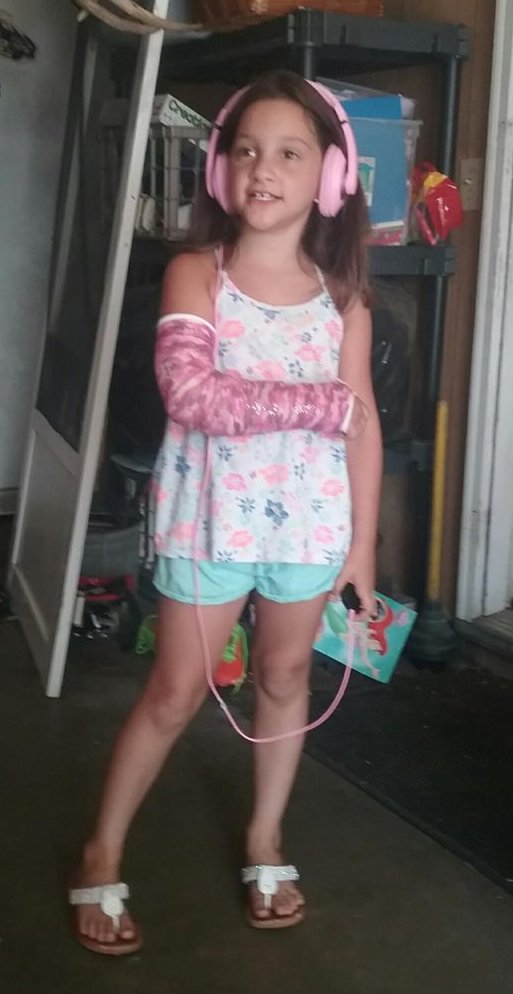 moment after a fracture turned into a need for Chaize to undergo surgery.
We all know that siblings playing together can sometimes turn into bickering. That's exactly what happened in late June 2017, when 7-year-old Chaize and her sister were playing outside together. They decided to run back inside the house, when her sister started playing a little too rough and Chaize's arm was smashed between the door and a wall. Soon enough, an afternoon of playing and a little sisterly argument started to become a bigger ordeal.
"There was no doubt that her arm was broken. It had a big dip in the middle, so we immediately took her to the closest hospital," remembers Chaize's grandmother, Collette. After X-rays and a temporary splint, the Byers were referred to an orthopaedic surgeon with both of the bones in her arm being fractured.
"At first, we were sent to an orthopaedic surgeon in Troy. Then, I started to do my research and look into different options." Collette chose to go to Dayton Children's Hospital instead and took Chaize to see orthopaedic surgeon, Dr. Alvin Jones.
Dr. Jones put Chaize in a special pink cast and she went on her way. After six weeks in the cast, she went to her last appointment to get the cast removed. But the appointment took the family by surprise. Chaize's arm wasn't healing properly with just the cast.
"When children fracture a bone, many times, we can treat them in a cast and overtime their bones will heal and remodel or realign naturally as they continue to grow," says Dr. Jones. "However at times, their fractures can be severely displaced and we have to operate on them to get their bones in a better position for overall long-term function."
Four days after her last appointment, Chaize sat in a room watching cartoons waiting to go back to surgery. Surgery can be scary for anyone and learning that your surgery has to get pushed back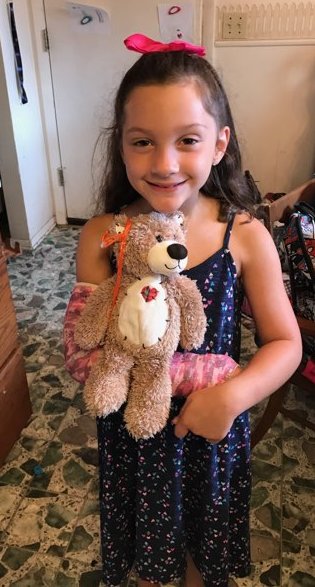 and your wait time has to increase can only escalate nervousness. Chaize was no exception. After learning that another surgery had pushed back her surgery time, she started getting upset and nervous. Luckily, Dr. Jones knew how to ease her nervousness. He came in the room and spent 45 minutes with Chaize to calm her nerves before surgery. They played, talked together and he even brought her a stuffed teddy bear.
"When Dr. Jones came into the room, Chaize asked what took him so long and he said he was eating chocolate. So they named her new teddy bear, 'Chocolate'. He took the time to reassure her before she went back to surgery. As soon as she saw him, she was ready and not afraid anymore. It made such a huge difference in the way she was feeling." 
Surgery has helped Chaize get back to being her energetic self. She's back to swimming, riding her bike and is even joining gymnastics this year. If you ask her now, she will tell you that Dr. Jones is 'her doctor'. In fact, at Chaize's final appointment after surgery, it was her idea to bring him a card and chocolates - in honor of the teddy bear 'Chocolate'.
"Dr. Jones and everyone at Dayton Children's made such a huge difference in our experience. We are so grateful for everyone and how they made us feel." Collette shares. "We won't pick any other hospital for our grandkids in the future."