Guest Blog by Ben's mom, Nikki Hemmelgarn: 
Our son, Ben, is 14 years old. He started having random severe chest pain about a year ago, December 2018. He had quite a few chest x-rays and we were told that it was "pneumonia." Ben was put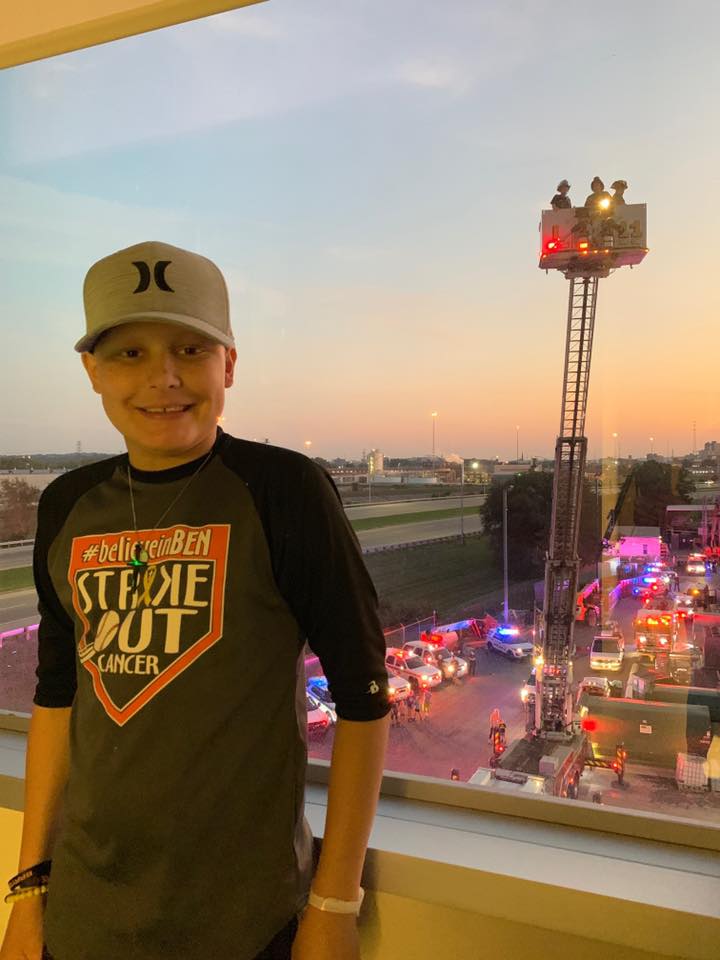 on three different antibiotics, but he still randomly had very intense chest pain. We are so grateful for the support of our school nurse, Mrs. Weigel, and our family doctor, Dr. Winner. They were very persistent and wanted answers as much as we did. On Feb. 7, 2018 we ended up bringing Ben to our local ER and he had a CT scan. The scan clearly showed a mass and we were sent straight to the emergency department at Dayton Children's Hospital, which is about 70 miles from us. After a few more hours of testing, they told us that we would be spending the night. It was almost midnight. It didn't hit us until the transporter pushed the fourth floor... hematology/oncology. I couldn't believe that we were being sent to that floor. It was beyond our worst nightmare. After the nurses walked out of the room that very first night, Ben just started crying. He was so scared. Why? What is happening? How long will I be here? If I have cancer, am I going to die? He had so many questions and we just couldn't answer them.
Ben had a biopsy the next day. We spent the next few days at home, nervously awaiting on the results of the biopsy. We tried to enjoy life as we knew it, but also tried to prepare ourselves for this journey we were about to begin. Ben is our oldest of five kids. We had no idea how in the world we were going to be able to do this. My husband and I both work full time. We had no idea if we'd be able to continue working or how much we'd need to be at the hospital with Ben.  We had an appointment with Ben's oncologist, Dr. Jordan Wright, on February 14. It was this appointment that our biggest fear became our new reality. Being told, "Your child has cancer." are words that no parent should ever have to hear. Ben handled this all so well, which quickly made us realize that we CAN do this. Dr. Wright is an exceptional doctor. I know we asked him a million questions and he always had so much compassion and expertise. He would explain things until we were comfortable with everything. We will be forever grateful for the care given to Ben from not only Dr. Wright, but the other oncologists as well. Dr. Dole, Dr. Chow, and Dr. El-Sheikh also treated Ben and went above and beyond to take care of him.
Within the first few weeks, Ben had a CT, MRI, PET, and bone marrow aspiration. We were so relieved and grateful that the cancer was localized. Ewing Sarcoma...located in Ben's fourth rib. Ben was put on chemotherapy and was inpatient every two weeks. We quickly learned to make the "best" out of our hospital days. It was so hard for Ben to be "stuck" in the hospital and it was the last place our sports loving kid wanted to be, but it was out of our control. We learned from the very first overnight stay that the staff at Dayton Children's was phenomenal. We can't say "THANK YOU" enough for everything they did for us. Ben was able to enjoy nerf gun fights, water gun fights, corn hole competitions on the Sky Deck, fake poop, a fake bloody finger that popped off, fake spiders, manicures, many walks around the fourth floor, rubber snakes, a scary mask, and lots of other jokes and pranks...anything that could make Ben smile and make the hospital days a little "brighter".  The doctors, nurses, residents, pharmacists, ER staff, child life, patient care assistants, cafeteria staff, custodial staff, and every staff member that we came in contact with was AMAZING. They all made such an impact on Ben that we will forever be grateful for. The fourth floor nurses are truly the heart of the floor. They know these kids inside and out. Each one of them has a special gift and they go far beyond every single day to give their ALL to each and every patient. They love these kids as their own. The nurses are the reason that Ben was able to stay strong and keep fighting. THANK YOU fourth floor nurses! The Ronald McDonald Family Room was also a vital part of days at Dayton Children's. We were always so grateful to be able to do laundry, grab a snack, and just have a place to "get away" when we needed a break. We've also had the privilege of meeting some incredible warrior families. The relationships that we've been able to make with other families on the fourth floor have truly made such a difference. It's so nice to be able to reach out to another "cancer mom" for advice, support, or just for someone to talk to because they just "get it." We are also so thankful to have been able to get so much support and advice from the other families going through treatment. They were with us on day one and we don't know what we would've done without their love and support.
Ben had surgery on May 30. The surgeons removed his fourth rib and surrounding soft tissue area. Surgery was very rough on Ben. His body was already so weak from the chemotherapy and it was so hard to see him in the condition he was in. However, the pathology report came back a few weeks after surgery and we were so relieved! CLEAR MARGINS! We will forever be grateful for the excellent work of Dr. Pence and Dr. Christian.
Ben had a total of 14 rounds of chemotherapy. His last treatment was September 30. He had his end of treatment scans at the end of October and all CLEAR! He will continue to have scans every three months for at least five years. Ewing Sarcoma is an aggressive cancer and is well known to come back. We will continue to hope and pray that Ben continues to have clear scans.
This journey has been so incredibly hard. We could sit around and cry every single day. We definitely have our sad moments, but we really try to stay positive, keep the faith, and make the best of the situation we're in.  Our family, friends, and community have been an amazing support. We also don't know where we'd be without the top-notch staff at Dayton Children's who have gone above and beyond. The fact that Ben was crying as we walked out from his last treatment, says it all. Thank you, Dayton Children's, for not only helping our son be CANCER FREE, but also for making this journey "fun!"