11/17/17 event
sugarplum festival of trees
Friday, November 17, 2017 - Sunday, November 19, 2017 | 8:00 a.m. - 8:00 p.m.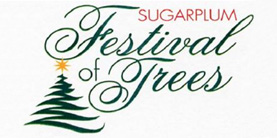 The Sugarplum Festival of Trees is an annual holiday extravaganza that kicks off the holiday season for the Miami Valley. Please join the more than 350 TWIG volunteers that have worked year-round to make this spectacular holiday event possible.
Browse and bid on the fabulously decorated Christmas trees and pick up some homemade Christmas gifts and decorations including wreaths, ornaments and more! The Sugarplum Shoppe and Christmas trees are open to the public on November 18 and 19 from 9:00 am to 3:00 pm. 
Tickets for the Golden Hour, Golden Memories Gala, Holiday Brunch, Prince and Princess Ball and Breakfast with Santa can be purchased below. Registration closed on November 3. 
Proceeds from this event will support the TWIG Auxiliary's $1,000,000 pledge for the Mills Family Center for Cancer and Blood Disorders.
FREE AND OPEN TO THE PUBLIC
No registration necessary Saturday and Sunday, 9 a.m. - 3 p.m.
Sugarplum Shoppe 
Raffles
Tree Viewing and Bidding (closes at 3 p.m. Sunday)
Nutcracker Sweets
Kids Holiday Shopping Corner (Sunday, 9 a.m. - 1 p.m.)
(Paid Events)
Friday, November 17
Golden Hour : 5:30 -6:30 pm craft beer and golden surprise tasting
Golden Memories Gala :7:00 pm : Dinner, cash bar and raffles
Bidding open for all trees and silent auction items.
Saturday, November 18
Holiday Brunch
10:00 am
Brunch, cash bar and raffles
Prince and Princess Ball
5:00-7:00 pm
Dress up as your favorite prince or princess and enjoy dancing, music, crafts and the Kids Holiday Shopping Korner!
Sunday, November 19
Breakfast with Santa
9:30 am
Put on your holiday best and enjoy a hot breakfast, meet Santa and check out the Kid's Holiday Shopping Korner