04/08/18 event
Sensory-Friendly Performance Journey to Oz
Sunday, April 08, 2018 | 2:00 p.m. - 3:00 p.m.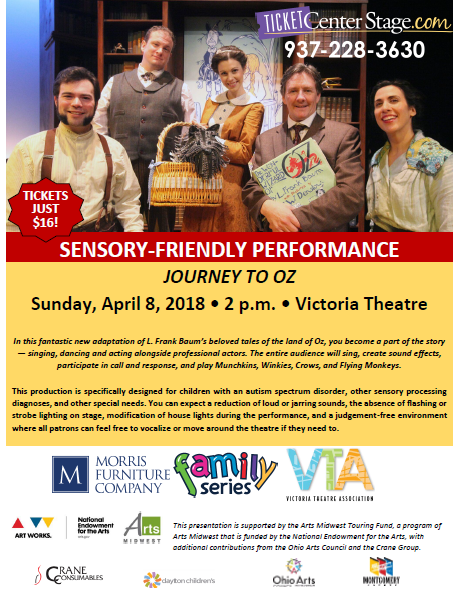 In this fantastic new adaptation of L. Frank Baum's beloved tales of the land of Oz, you become a part of the story — singing, dancing and acting alongside professional actors. The entire audience will sing, create sound effects, participate in call and response, and play Munchkins, Winkies, Crows, and Flying Monkeys.
This production is specifically designed for children with an autism spectrum disorder, other sensory processing diagnoses, and other special needs. You can expect a reduction of loud or jarring sounds, the absence of flashing or strobe lighting on stage, modification of house lights during the performance, and a judgement-free environment where all patrons can feel free to vocalize or move around the theatre if they need to.
For tickets call Ticket Center Stage at (937) 228-3630