03/18/18 event
Sensory-Friendly Performance Go, Dog. Go!
Sunday, March 18, 2018 | 2:00 p.m. - 3:00 p.m.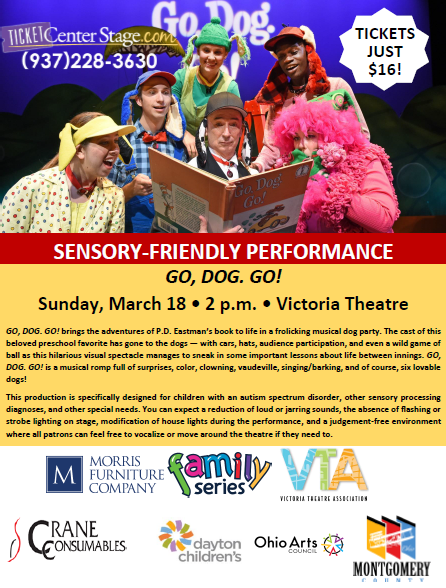 GO, DOG. GO! brings the adventures of P.D. Eastman's book to life in a frolicking musical dog party. The cast of this beloved preschool favorite has gone to the dogs — with cars, hats, audience participation, and even a wild game of ball as this hilarious visual spectacle manages to sneak in some important lessons about life between innings. GO, DOG. GO! is a musical romp full of surprises, color, clowning, vaudeville, singing/barking, and of course, six lovable dogs!
This production is specifically designed for children with an autism spectrum disorder, other sensory processing diagnoses, and other special needs. You can expect a reduction of loud or jarring sounds, the absence of flashing or strobe lighting on stage, modification of house lights during the performance, and a judgement-free environment where all patrons can feel free to vocalize or move around the theatre if they need to.
For tickets and information call: (937) 228-3630