04/01/21 event
Child Abuse Prevention Month
Thursday, April 01, 2021 - Friday, April 30, 2021 | 10:15 a.m. - 11:00 p.m.
join us as a partner in prevention
Nearly 1,000 children need CARE House every year, and still hundreds more depend on Michael's House in Greene County and the Child Advocacy Center of Warren County. These children are the victims of abuse and neglect, and need our help for their medical, psychological, legal, and/or social services.
But we know that those kids who come to us are just a small number compared to those who are victimized. Our Child Advocacy Centers' mission is to prevent child abuse and neglect for all kids in our community.
And that's why the month of April is designated as National Child Abuse Prevention Month. "Awareness" of the problem is just the first step — prevention starts with education and ends with every child being safe and protected.
Now is the best time to start that conversation and ask our community to get involved and be advocates for kids. As dedicated as our Centers are to their mission, they can't achieve it without every member of our caring community pitching in.
Our vision is of a world where all children grow up happy, healthy, and prepared to succeed in supportive families and communities.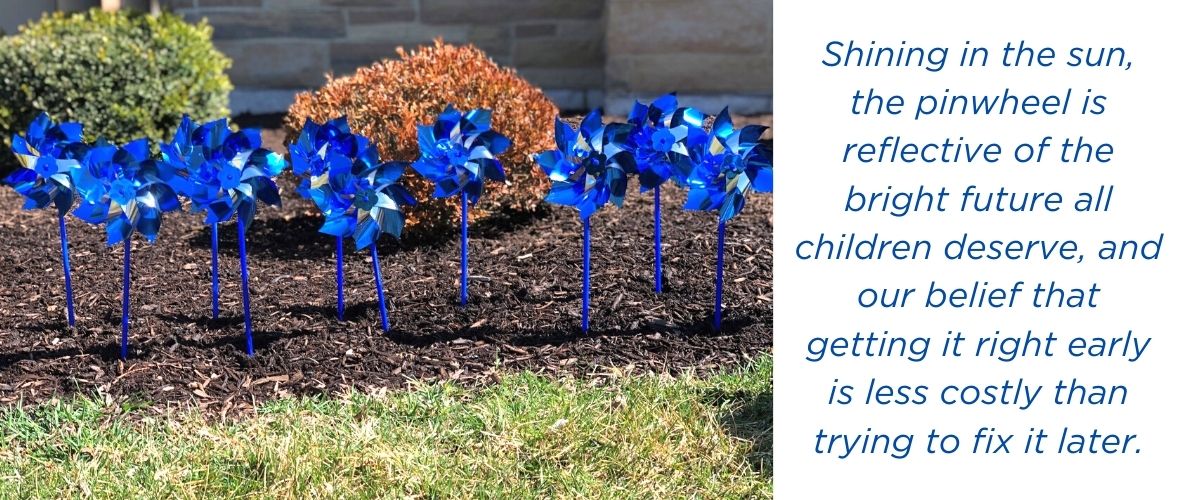 Pinwheel gardens represent our effort to focus on community activities that support families, and public policies that prioritize prevention right from the start to ensure child abuse and neglect never occur. Pinwheels are a reminder that we all play a role in children's lives. 
To that end, next month we are working with community partners to plant "Pinwheel Gardens" as symbols of hope and the carefree existence all children should experience. Look for them throughout our community and take a moment to reflect on their meaning. 
It's time to start a new conversation about child abuse, break the silence around it, and take action to end it. Our children are depending on it.
Download your own printable pinwheel that you can display to show your support for this vital cause.